Since I was bored out of my skull last weekend, I decided to go and haunt places.
Rainy scene from the 2nd floor of the condo. I love this view in the morning. I hate it when irresponsible people from other rooms leave trash on the floor.
Street kids wandering around in the rain. Yeah, used to do that a lot when I was a kid. And yeah, I was also a street urchin. Coming home looking like a rag and smell like I dunked into a canal.
My beloved Mandaluyong along with the floods. That's the Divine Mercy church at the right of which constitutes the Boni Circle.
Come Independence Day, I've decided to sample food everywhere within my jurisdiction of hauntings.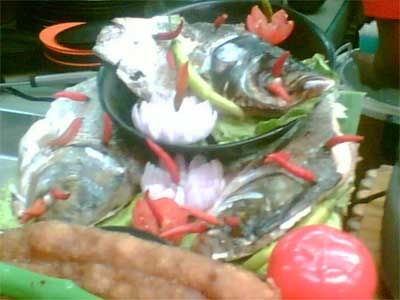 This has got to be the most horrible food decoration I've ever seen. That's a fish that has been tragically pin-cushioned by red chilli peppers -- not visually enticing. The other meals they serve reeks of MSG. Well, what would you expect in a food court?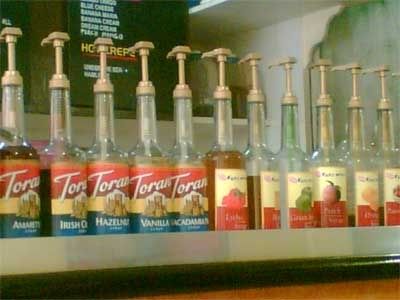 While I was on my way back to Boni, I've chanced upon a branch of Frio Mixx just a block away from the circle. I have beloved memories of these establishments because of the sumptuous tomato-based pasta they serve (albeit not of satisfactory quantity). They serve tasty crepes too. My favorite cold crepe is that banana type, and the hot (warm?) one would be that one with bacon tidbits -- oh, it's called Hungarian. Very nice for hungary people like me, nyuk nyuk.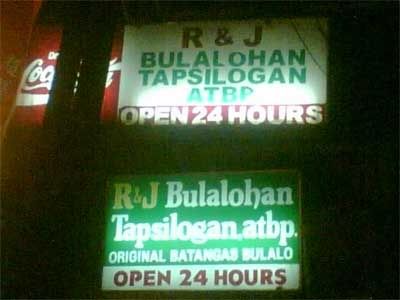 Behold -- the infamous RJ's. They have really nice bulalo, and their value meals are cooked right before you order them. None of that re-heated tripe in other food establishments. So here, you can expect a hot, satisfying meal along with your favorite drink. I took mine along with a bottle of Colt 45 :}