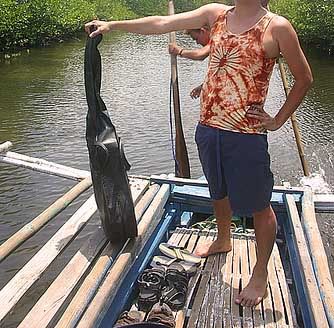 Me and my inseparable guitar while grossing the mangroves in Palawan
I haven't told anyone about the story between me and my guitar. I bought it from a chinese woman I was so into but I couldn't date because ... well, you know traditionalists. I told myself, if she can't be with me, then I'll have something from her that I'll keep always.
I had one sleepless night thinking about her before that. When she handed over the guitar, she got a bit embarassed because it's busted. And she jokingly said that it felt like if she put so much as a cigarette lighter near it, it will be quickly engulfed in flames.
She had it since she was highschool.
The first thing I did when I got it was buy some wood glue. So there. Now that the guitar not only has a new master, its new master was the one who repaired it and made it whole again.
So I gave it a name:
Grace
. The name of the person who used to own it. And in honor of my uncanny history of romantically entangling myself with women with the word 'Grace' in their names. Geez, they must be at least five or seven.
Oh but I had two other guitars before it. My first, a turtleback, got busted after falling horribly from a standing position in my old dorm. And the second, I gave it away as a gift to a single mom I've dated.
I brought it with me to many places ... Tagaytay, La Union, Boracay, and now Palawan.
And in Palawan, I played it til my fingers hurt.
We had good singers in the group, and those who simply loved to sing.
And I loved playing my guitar for them. It's sort of of a fulfilling purpose to have made other people enjoy the music. It was a funny incident when we tried to tune the guitar for two hours XD
We sang til the wee hours of the night. We sang til we burst out laughing. We sang because we're all in this paradise. We sang for Gran. We sang a lot. Even to some pretty obscure songs XD
~~~
To be continued with the story of Gran ...