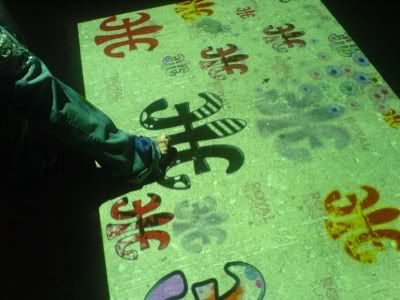 Dekart at the Fort. That's Jam's foot. It's one of those light-sensitive thingies that when you pass by the floor something happens. In this one, flowers bloom on your shadow trail :}
I've been in two night outs this week. And might I say, I think I needed it.
You know the feeling of having to routinely do the same things everyday and then feel like it's beginning to be drab and boring and the walls of your room are closing in on you? Yeah, I've been redeemed of such a fate.
I think that has what made me want to travel.
I must see, I must know
. Anything to curb my emerging
nihilistic
tendencies. I don't ever wish to drown my head with something as useless as that.
I want to do a lot. I want to do more. But I want to do it right.
Right
this time around. I don't want that a whole year of my life passing by before me that I couldn't remember anything significant happened.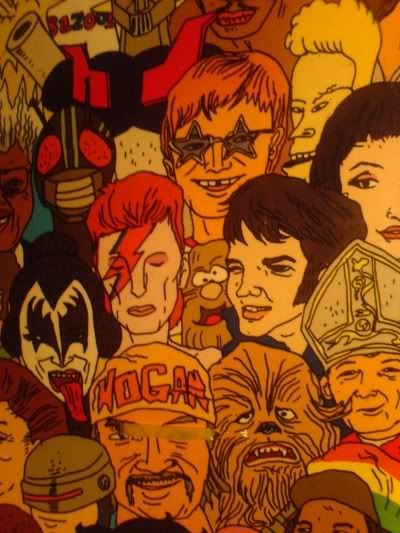 Hmmm.
What do I do next? I like to plan the stuff I'm gonna do before this year ends. Then again, people like me breaks plans anyway ;) The chaotic legacy of living without order. Uhh, that sounded redundant.
I plan to move out and have my own place. Liked the ring of that. It might cost more yes, but the possibility of letting myself grow is exciting. Lots to do!
It's been a while since my best friend and I talked about anything. Almost like, four months of not having any contact. But I'm glad she mailed.
Sigh. I sorta wish she's still around. Although nung nandito nga naman siya, di ko rin naman sya nakakausap ng ganun kadalas. Gone were the days when we would talk about everything remotely intellectual and silly. We'd talk about life's tragedies and comedies, and what's our place in this world, even philosophize about a bit. Sometimes we piss each other off (truly!), but the end of the day, I still have the gall to insult her like nothing ever really happened.
And I guess, she just told me the most cheerful thing I heard all week :) Thanks dumbass.