anche!!! musta ka na? ekaw bay nalolongkot, alang magawa? hehehe.. wala na ko balita sayo, di ko lam kung nasang sulok ka na ba ng mundo. what have you been busy with lately? kasi naman di nagki-keep in touch :( mayaman ka na siguro kaya suplado ka na sa personal ano? hmpft!
san ka na ba nagwu-work? summer na dyan sa atin no? haay, kakamiss naman ang pinas!!! lalo na ang halo-halo at sisig.. yum!
hey, we've moved to minnesota na. natapos ang contract ni hubby sa arkansas so kahit ako pwede pa mag-stay doon, being the good wife that i am (or should be, hehe), eh i had to give my contract up and follow him here. 3rd week ko palang, ang lamig dito!!! i've been hit with arkansas-homesickness pero life has to go on, ika nga. so here i am, trying to find my silver lining in a new place covered with snow.
aside from this and some other stuffs that i won't tell anymore kasi papagalitan mo lang ako >:D .. eh wala na akong kwento. alang kwenta no? :) nagparamdam lang po para naman alam mong buhay pa ako, at may kaibigan kang naalala ka kahit ika'y nakalimot na *luha*
o sige tama na emote kasi oras na ng trabaho, basa ka pa nang basa ng email dyan. miss you!!! :)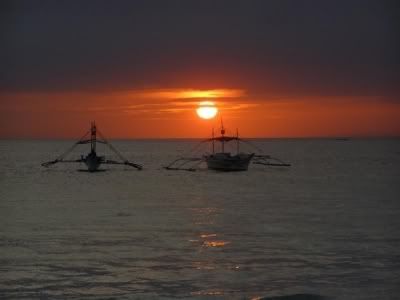 ~ Two Boats and the Boracay Sunset ~
I missed you too. I missed being beside you and how I turn your day miserable :D But just as those two boats have to part to go to separate seas, we have to plant our own good memories in separate places. I've always wanted to see the day I could see you again. Maybe someday!