Clothes make the man. Naked people have little to no effect to society.
- Mark Twain
Pasaway ako ngayong araw na to.
Lahat pala ng pampormal kong damit ay nagamit ko na kaya kinailangan kong maglaba kaninang umaga habang ang ipinangpasok ko ay -- business casual. Shempre may dala akong wind breaker pangtaklob sa suot ko.
Pansin ko lang, halos napupuno ko na ang closet sa condo na puro damit ko lang ang nakalagay. Shempre mga roommates ko ang tipid sa damit. Kelangan kong palitan na yung iba dahil hindi na babagay sa kin. Iuuwi ko na sa Cavite.
Kelangan ko pa ng polo, barong, at dalawa pang pantalon. Kailangan ko talaga ng shopping buddy :p kase basta nakita ko, hablot ko.
Dating monochrome gray ang wardrobe ko, ngayon ay makulay na :}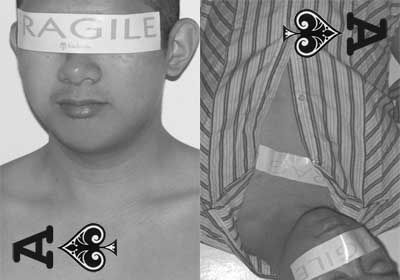 It was a night of pusoy dos, when all through the house
None of us was drinking, not even a mouse
The beach shorts were hung by the chair with care,
In hopes that a cute maid soon would be there;
The boys were nestled all snug in their beds,
While visions of Cocomangas danced in their heads;
And Toto in his 'kerchief, and I in my cap,
Had just settled down for a long Boracay nap,
When out on the lawn there arose such a clatter,
I sprang from the bed to see what was the matter.
- based from Clement Moore's Poem *tee hee*>